You are here

It Wasn't On My Calendar
It Wasn't On My Calendar
Submitted by Financial Advisors in Tampa and St. Petersburg, FL | CFO on October 25th, 2018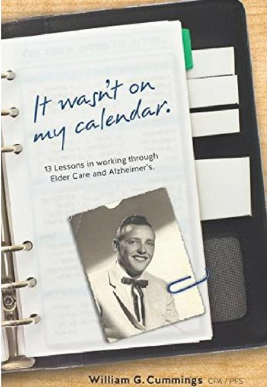 By William Cummings
It's something most people try to avoid thinking about. In fact, it is something many people successfully avoid thinking about. Unfortunately, a medical, mental, or aging crisis doesn't rely on whether or not you have planned for its arrival; it can come anyway. It sure did for my father and me.
The sad truth is that so many of us are completely unprepared for the devastating process that takes over when a loved one's health, mind, or even both begin to fail them. Much less are we prepared for the chance that this may one day happen to us!
Think It Won't Happen To You?
I am willing to bet you know someone who has been impacted by a medical, mental, or aging crisis such as Alzheimer's or dementia. I may even be as bold as to say I bet you know a few people who have suffered through watching a loved one succumb to this unrelenting disease. In 2018, an estimated 5.7 million Americans of all ages are living with Alzheimer's or dementia. In fact, every 65 seconds, someone in the U.S. develops the disease. (1)
Think You Still Have Plenty Of Time?
The majority of Americans who experience this disease are over the age of 65. However, of the 5.7 million Americans mentioned above, approximately 200,000 of those individuals are under age 65 and have been diagnosed with younger-onset Alzheimer's. This sobering statistic means that age doesn't necessarily ensure that you are in the safe zone. In the same breath, it also means that you may not have as much time with your parents or other significant elders as you may have thought.
Think Your Genetics Exclude You?
Taking a look back at your family's medical history can sometimes serve as a reliable means to gauge your likelihood of developing certain diseases. For instance, some types of dementia have both inherited and non-inherited forms. With frontotemporal dementia, 30-50% of cases are hereditary. However, most cases of Alzheimer's disease are NOT inherited. (2) This means that your genetics are not a reliable indicator of your risk level. The staggering truth is that from the year 2000 to the year 2015, deaths from Alzheimer's have increased 123%! (3)
Will You Be The Caregiver?
Chances are you have some sort of subconscious assumption or idea of who might be a caregiver. Perhaps a nurse, maybe a nanny, or possibly even a family member or friend who isn't already bogged down by the demands of daily life. And while none of those options are out of the question, the truth is that if you are relying on outside assistance, such as elder care, you need to be prepared for it.
Statistics show that approximately 25% of those caring for someone with dementia are "sandwich generation" caregivers, meaning that they are caring for both their ill parent and their own minor children. But don't think that just because you are past that stage of life you are off the hook. Statistics also show that over 30% of caregivers are over the age of 65 themselves! Over half of all caregivers are female, with over one-third of all caregivers being daughters. (4)
This Is No Walk In The Park
In and of itself, caring for someone other than yourself can be hard; caring for someone who is critically ill can be extremely taxing. Furthermore, twice as many caregivers of those with dementia express considerable emotional, financial, and physical hardship. (5) There will be an onslaught of pressing issues, financial demands, and medical knowledge that you will be forced to take on. If you are going to get Alzheimer's or dementia, there is nothing you can do to prevent it. And when this disease strikes, there is nothing you can do to cure it or slow it down. That is not when you want to begin preparing yourself. You want to be prepared now, so that when the challenges come, you are not completely overwhelmed.
I Want To Help You
I have learned a lot from enduring this journey with my own father. I wanted to help others, like you, who are affected in one way or another by this devastating disease. I decided to write a book, It Wasn't on My Calendar. You don't have to go through what I did without a road map.
In my book, I divide my experiences into 13 lessons teeming with relevant and useful advice for family members, caregivers, and professionals, such as:
How Do We Respond?
What Resources Are Available?
Getting the Right Medical Help
Know If and When to Move Him from His Home
Know the Best Place for Your Loved One to Live
Know All of Your Options on How to Pay for It
Selecting the Right Financial Advisor
Proper Estate Planning
And more!
If you are like most others, you are finding yourself with more questions than answers. This firsthand guidebook I have put together will provide you with many of the essential answers you need in order to deal with your own situation, equipping you with crucial knowledge and establishing the focus you will need for the process. You don't have to enter this battle blind and unarmed.
If you'd like to learn more about the services I provide and how I can help you create a substantial and secure financial future, don't hesitate to contact me by calling 813-374-9676 or emailing bill@ourcfoteam.com today to arrange a complimentary meeting.
About William
William Cummings is the president and owner of Concierge Financial Organization, with more than two decades of industry experience. He helps his clients pursue financial independence, protect their family and lifestyle, manage life events, and build a legacy. His passion as an advisor is to encourage every client to become more engaged in learning about money and planning for their future. By creating a more comfortable environment, he hopes his clients feel less intimidated, more engaged, and ultimately more confident about their financial future. Learn more by connecting with William on LinkedIn.
Registered Representative/Securities and Investment Advisory Services offered through Signator Investors, Inc. Member FINRA, SIPC, a Registered Investment Adviser. Concierge Financial Organization is independent of Signator Investors, Inc. 1511 N. West Shore Blvd, Suite 1100, Tampa, FL 33607. 813.288-8800 513-20181008-475891
__________
(1) https://www.alz.org/alzheimers-dementia/facts-figures
(2) https://memory.foundation/2015/01/22/will-i-get-alzheimers-too/
(3) https://www.alz.org/alzheimers-dementia/facts-figures
(4) https://www.alz.org/alzheimers-dementia/facts-figures